The New Orleans Swamp Donkeys play a rousing old-timey jazz rendition of The Game Of Thrones Theme.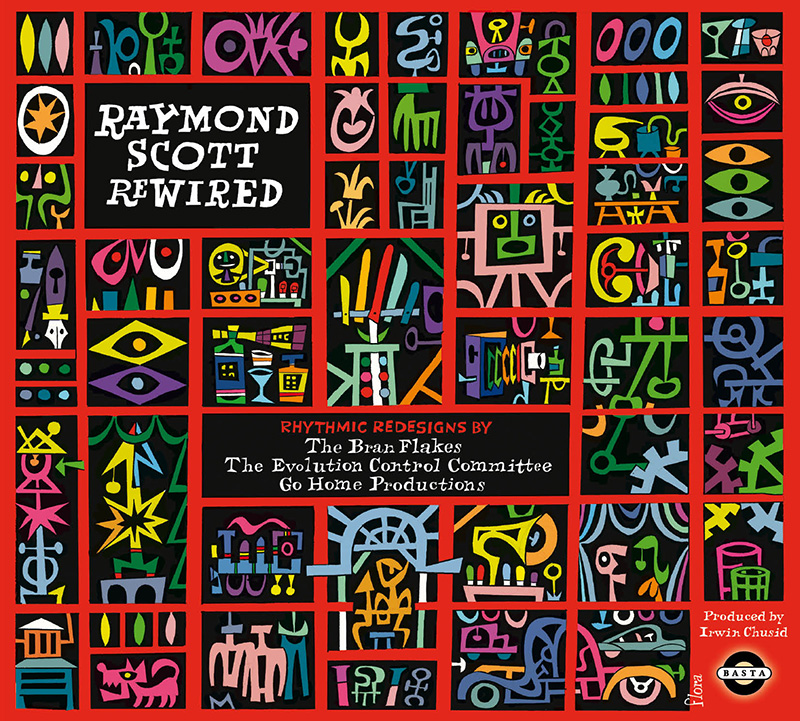 The Raymond Scott estate turned over 50 years' worth of the composer's archives to three DJs -- The Bran Flakes, The Evolution Control Committee, and Go Home Productions. The archives contained "jazz, orchestral, electronic, experimental, studio chatter, never-heard rarities," which the DJs remixed into six tracks each, as well as a collaborative remix of Raymond Scott's "Powerhouse," perhaps his best known work (and much beloved of classic Warner Brothers' cartoons fans).
The Raymond Scott Rewired CD came out on Feb 18, and there's also an MP3 version.
Having belatedly discovered the Electro Swing genre, I'm enjoying the hell out of it. My wife brought home a link to Caravan Palace's "Clash" (from their 2012 album Panic), which is pretty much perfect in its ability to hit all my sweet spots: Django/Grapelli-ish picking, megaphone singing, Andrews Sisters harmonies, Herbie Hancock glitch-tunes, and just enough dubstep to be interesting (but not enough to be annoying).

Read the rest
Nothing says Christmas like jazz poetry, and nothing says jazz poetry like Lord Buckley's appearance on You Bet Your life. If you only watch one 10-minute video of a jazz poet trading quips with Groucho Marx this holiday season, make it this one. Bonus: a totally unsubstantiated comment on the YouTube page says that Buckley's partner is actor Amy Poehler's grandmother.
Patrick sez, "Lord Buckley was a comedian/storyteller who performed in the '50s. His version of A Christmas Carol is an utter delight."
Damned straight. Lord Buckley's a hero of mine, and this is him at his best. If this has you intrigued, try his version of The Raven, and Dig Infinity!, the indispensable biography of Lord Buckley.
Back when I was a junior-high flute player, I once heard somebody mention the existence of bass flutes. I was instantly intrigued. But, in the days before readily available Internet access, I wasn't able to track down examples of what they looked or sounded like.
Today, YouTube is filled with examples of deep-voiced, husky flutes — ranging from the simply extra-long alto flute to the gigantic subcontrabass flute, which is basically a percussion instrument with some woodwind features.
It's fascinating stuff, and a handy reminder that flutes can do really interesting things ... like improvisational jazz, and beatboxing. I've put together a small playlist of videos. Enjoy!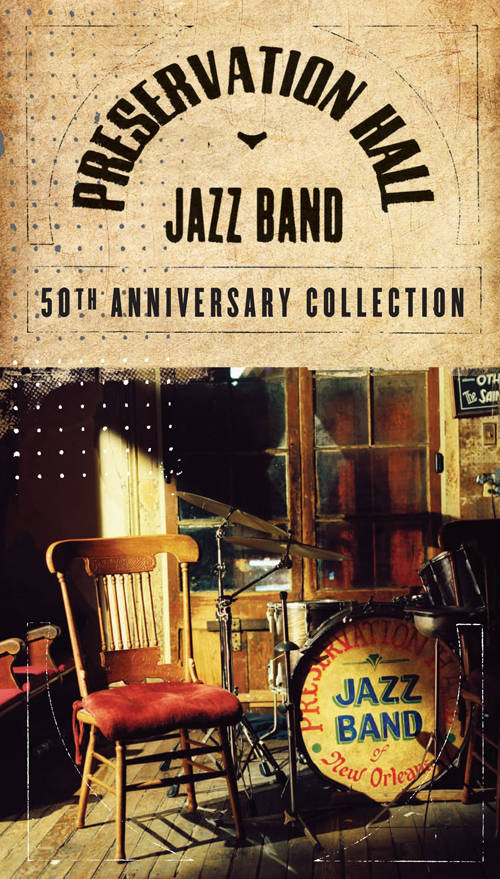 Last week, I linked to a couple early tracks from the new Preservation Hall Band CD, St. Peter & 57th St, which comes out today.
What I didn't mention is that today also marks the release of The Preservation Hall 50th Anniversary Collection, a four-disc box-set spanning the Preservation Hall band's storied history from 1962 to 2010, with guest vocals and instrumentation from Richie Havens, Tom Waits, Pete Seeger, Andrew Bird, Yim Yames and Del McCoury.
Preservation Hall is the legendary New Orleans club whose eponymous house band frequently host some of the greatest talents in jazz music. I drop in on the Hall every time I'm in NOLA and am never disappointed.
I got an early peek at this last week and have had it on an continuous loop ever since. The discs include five previously unreleased tracks that were nearly lost in the aftermath of Katrina, but which were rescued and restored. It's a best-of drawing from 20 CD and albums the band have previously released, and it's absolute gold. Though the music spans many styles and sub-genres of blues and jazz, every track is a winner; the accompanying booklet provides invaluable commentary and color from tuba player Ben Jaffe, the son of Preservation Hall's founders, Allan and Sandra Jaffe.

Here's a hell of a way to start the weekend: a couple of outstanding tracks from the upcoming album St. Peter & 57th St, from the Preservation Hall Band, the very sound of New Orleans. The album was recorded live in Carnegie Hall, and ships on September 25th.
* It Ain't My Fault, featuring Yasiin Bey (a.k.a. Mos Def), Trombone Shorty, Allen Toussaint
* Careless Love, with a horn section that'll make you weep and a singer that'll make you wail.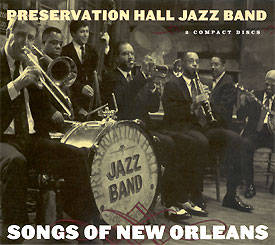 Last year, I found myself in New Orleans for a rather epic birthday party. One place I knew I wanted to visit was Preservation Hall, (which I'd written about here), a legendary unamplified jazz club. It was everything I'd heard and more.
I bought the whole run of Preservation Hall CDs, and they've been in heavy rotation here. Of the bunch, my favorite is "Songs of New Orleans," and I always know it's going to be a good day when the random number generator smiles on me and shuffles a track from the double CD into my music player, especially if that track is Go to the Mardi Gras, which played about ten minutes ago and put a smile on my face that's certain to last the day through.
I've just noticed that there's a new(ish) Preservation Hall Jazz Band CD, American Legacies, which, alas, I can't say anything about, because the Amazon MP3 store won't sell it to me (I'm in Germany and my credit card is registered in the UK, so they shut me out).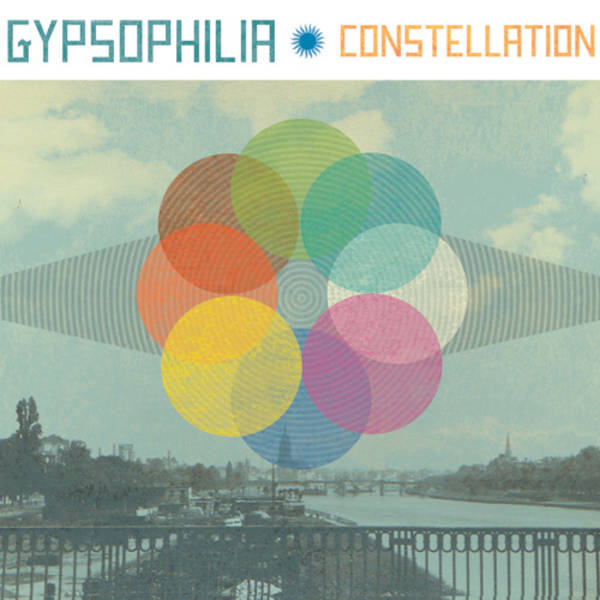 Back in 2009, I reviewed "Sa-ba-da-OW!", a wonderful, eclectic album from Gypsophilia, an indie band out of Halifax, Nova Scotia. I've just finished a day's listening to their new album, "Constellation," which is out today, and it's every bit as good as the last one. This is still recognizably Gypsophilia, still eclectic, slightly angular, high-energy jazz with bits of klezmer and stuff thrown in, but Constellation is more put-together and polished. But not too polished! It still makes me want to get out of my seat and dance around the room (especially the opening track, "Zachary's Czardas," which seems to channel Stéphane Grappelli's jazz fiddle and the piano stylings of Daffy Duck in full swing).
The album is available as name your price, DRM-free MP3s, a CD, or a vinyl LP.
The terrorist attack on Norway coincided with the annual Molde Jazz Festival, which traditionally concludes with a jazz parade through the city. The festival organizers changed their parade route to lead to the Molde Cathedral, and the performers played a solemn jazz funeral march through town. The video (not embeddable, unfortunately -- thanks for the embed code, Costeau!) is incredibly moving. Google Translate from Norwegian newspaper Dagbladet follows:
Today it goes to Molde Cathedral which has opened its doors to all who need help to cope with grief, uncertainty and despair. 11 young people from Molde in Utøya, and their fate is still unclear.

Jazz ceremony, the 60 to 70 young people from Hampshire, sets the "West Lawn Dirge", an old funeral march from New Orleans. The plaintive f-minor theme, followed by some slightly lighter stroke before the mourning mood again takes over, filling the main street. Silent people wreaths march route. Many of them crying, and eventually ends several hundred to the parade, follow it into the cathedral and takes in the bishops' words of comfort and a standing invitation at any time to seek help in the large, quiet room.
Moldejazz i sørgemoll
(
via Making Light
)