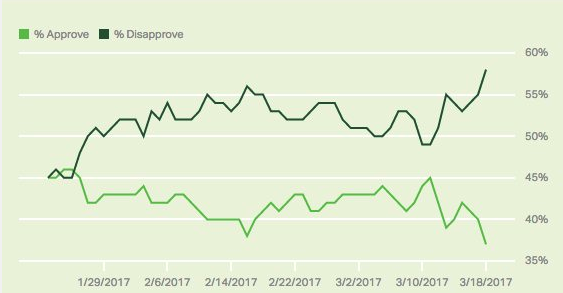 After a few weeks of Donald Trump's presidency, only 37 percent of Americans are happy with it. It's the worst in 72 years of polling for a fresh president, reports Mary Papenfuss.
Barack Obama's rating at this point in his presidency was 60 percent.

HuffPost Pollster's aggregate, which combines publicly available polling data, currently puts Trump's approval rating slightly higher at 44 percent, with 53 percent disapproving.

It's not clear which of several issues may have torpedoed the president's numbers.
With so much to work with, how can any one thing be given credit? The appearance of being a loser ties it all together, though, like a nice rug in room furnished with junk. CNN reports that FBI director James Comey is today expected to publicly rebut Trump's claim that Barack Obama, in cahoots with British intelligence, "wire tapped" him during the election campaign.
It's a moment of political theater that could end in humiliation for Trump, with Comey expected to say that there was no wiretapping, debunking allegations that Trump has repeatedly refused to withdraw.

The hearing could also shed light on the state of FBI investigations into the extent of Russian meddling in the election campaign. Republicans hope Comey will state that there is no evidence of collusion between Trump aides and officials from Moscow, a move that could begin to break up a cloud of Russian intrigue that has stifled the early weeks of the administration.
It is Comey, though! Since everyone's happy to cast him as kingmaker whenever he asks them to, who knows where whim will take him today?