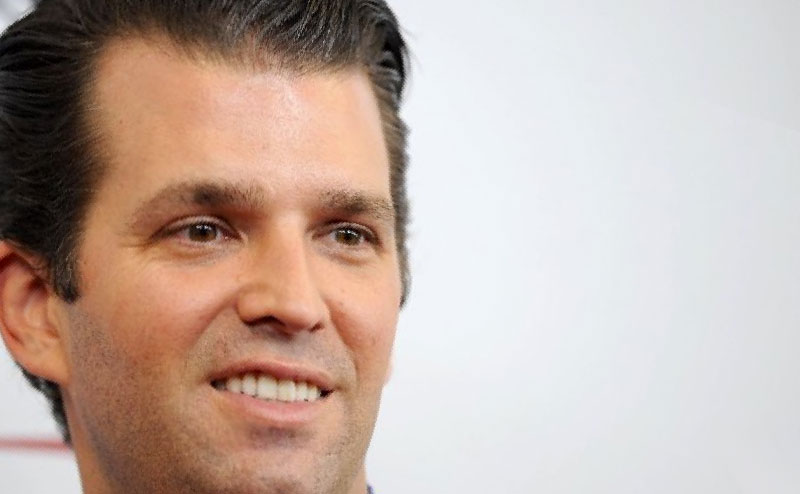 '
Donald Trump Jr.
' By Sebastian Vital, via Wikipedia,
cc-by-2.0
.
The Atlantic has released a bombshell story. Leaked files show Donald Trump Jr., the bumbling son of the United States questionably elected President, apparently cooperating with Wikileaks, an organization declared a "hostile intelligence service" by CIA Director Michael Pompeo.
These conversations took place through Twitter DM and would have been accepted by Jr. Trump, and could have been blocked at any time. The timing of various tweets, matched with other events, certainly carries the appearance of a bi-directional relationship.
Via The Atlantic:
On October 3, 2016, WikiLeaks wrote again. "Hiya, it'd be great if you guys could comment on/push this story," WikiLeaks suggested, attaching a quote from then-Democratic nominee Hillary Clinton about wanting to "just drone" WikiLeaks founder, Julian Assange.

"Already did that earlier today," Trump Jr. responded an hour-and-a-half later. "It's amazing what she can get away with."

Two minutes later, Trump Jr. wrote again, asking, "What's behind this Wednesday leak I keep reading about?" The day before, Roger Stone, an informal advisor to Donald Trump, had tweeted, "Wednesday@HillaryClinton is done. #WikiLeaks."

WikiLeaks didn't respond to that message, but on October 12, 2016, the account again messaged Trump Jr. "Hey Donald, great to see you and your dad talking about our publications," WikiLeaks wrote. (At a rally on October 10, Donald Trump had proclaimed, "I love WikiLeaks!")

"Strongly suggest your dad tweets this link if he mentions us," WikiLeaks went on, pointing Trump Jr. to the link wlsearch.tk, which it said would help Trump's followers dig through the trove of stolen documents and find stories. "There's many great stories the press are missing and we're sure some of your follows [sic] will find it," WikiLeaks went on. "Btw we just released Podesta Emails Part 4."

Trump Jr. did not respond to this message. But just 15 minutes after it was sent, as The Wall Street Journal's Byron Tau pointed out, Donald Trump himself tweeted, "Very little pick-up by the dishonest media of incredible information provided by WikiLeaks. So dishonest! Rigged system!"