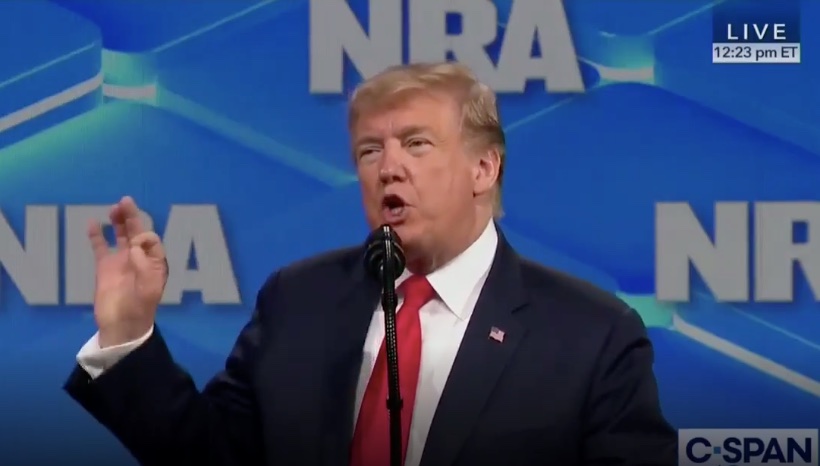 While speaking at the National Rifle Association convention in Indianapolis, Indiana just now, President Donald Trump spoke to pro-weapons advocates about a failed coup against him.
"I didn't need a gun" to ward off a coup by Robert Mueller, Donald said.
He said the FBI was "trying to infiltrate the White House," and urges an inquiry into the investigation surrounding his contacts with Russia.
Trump claimed "corruption" at the "highest level" of the Justice Department, and called U.S. law enforcement "a disgrace."
Video below.
The president also withdrew from a global arms treaty, and survived the apparent tossing of an object toward the stage.
Also today, Russian agent Maria Butina was sentenced to 18 months prison minus time served for acting in an influence operation that targeted the NRA and Trump.
The use of the "coup" language by Trump has escalated since the release of the less-redacted version of Robert Mueller's report.
TRUMP: "This was a coup. This wasn't stealing information from an office in the Watergate apartments. This was an attempted coup. Like a third world country. Inconceivable." pic.twitter.com/3g8LBIstLS

— Aaron Rupar (@atrupar) April 26, 2019
Trump accuses Hillary Clinton of "destroying the lives of people that were on our campaign. She's destroyed their lives."

"This was a coup. This was an attempted overthrow of the United States government," the president adds, referring to the Mueller probe. pic.twitter.com/Uvfcr1mQeo

— Aaron Rupar (@atrupar) April 26, 2019
"This was a coup. This was an attempted overthrow of the United States government," Trump says of the Russia investigation to adviser & Fox host Hannity.

— Philip Rucker (@PhilipRucker) April 26, 2019
I wrote this last week and I'll write it again. Just be prepared for Trump not leaving if he loses in 2020. He will say the election is rigged. He will call it a coup and a deep state conspiracy. He will attack all institutions. Right wing media and Republicans will defend him.

— Wajahat Ali (@WajahatAli) April 26, 2019
Hey - Remember last night?

That's when Trump said that he was above the law & investigations into his corruption were a coup?

Yeah. That was last night.

— Jesse Ferguson (@JesseFFerguson) April 26, 2019
At the NRA annual meeting on Friday, Trump trained his fire on Democrats and the Mueller investigation for what he called a failed "coup" attempt—one he boasted of having defeated without a gun https://t.co/Vhw1fmyKbY

— The Daily Beast (@thedailybeast) April 26, 2019
The president accused Democrats and federal investigators of trying to orchestrate "a coup" via the Justice Department's Russia election meddling probe. "But I didn't need a gun for that one," he said. "Tried an overthrow. But we caught 'em." https://t.co/o5cH1pfPWZ

— John T. Bennett (@BennettJohnT) April 26, 2019