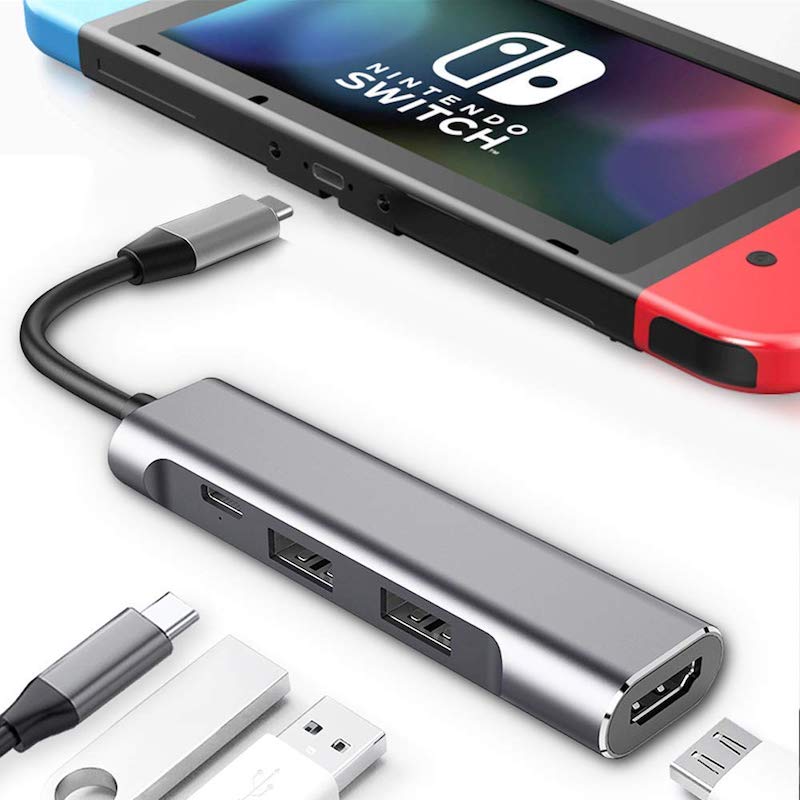 The Nintendo Switch is a fantastic portable gaming console that is made better with a portable dock.
I like to plug an Xbox controller into my Nintendo Switch. There is but a single USB-C port on the device, however, and I can only get in 2-3 matches of Fortnite (if I don't get eliminated immediately) before the battery is dead. To charge the device at the same time you use the USB port for anything else, you must have a dock. Nintendo's supplied dock is shaped like, and as convenient to carry, as a brick. I went looking for a cheap, small, portable dock.
One of the great things about the Nintendo dock is the HDMI out port. With this, you can play games on any screen that accepts HDMI. I wanted my tiny dock to support this as well, not just be a USB-C to USB-3 or USB-2 hub. This RREAKA multi-port hub works exactly like Nintendo's dock, and is the size of a king-size Sharpie.
I have been using this hub for the last few weeks. Moving between strange TVs and tiny portable monitors. I can charge the Switch while playing games, powering a USB controller and feeding HDMI to a screen. I can also use a power bank with 'Power Delivery' to run the whole thing.
I wish the Switch also had support for wired USB headsets, plugging into the 3.5mm jack on top of the unit is annoying.
A reminder that Nintendo wants everyone to never use 3rd party anything. This unit is well reviewed and has caused me no issues with several weeks of use.
USB Type C to HDMI Digital AV Multiport Hub, USB-C (USB3.1) Adapter PD Charger for Nintendo Switch via Amazon