Binders Full of Women, the tumblr
Read more at Boing Boing
Read more at Boing Boing
Read more at Boing Boing
---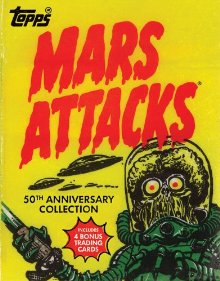 Yesterday I posted an illustration by the famed pulp illustrator Norm Saunders. Coincidentally, Abrams ComicArts just released a book commemorating the 50th anniversary of the Mars Attacks trading cards, which the Topps Company issued in 1962.
---
Jesse Thorn says:
We're doing a few Judge John Hodgman shows in New York. We just sold out our show Monday night and added one on Sunday night.
---
Ruben Bolling alerted me to this cool website. You enter a month and year, and it will return a page of thumbnail images of all the comic books that were available on newsstands for that month. Above, a few of the comic books available in February 1973, the month that I first became seriously interested in comic books, mainly because I discovered Jack Kirby's Kamandi.