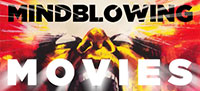 This week, Boing Boing is presenting a series of essays about movies that have had a profound effect on our invited essayists. See all the essays in the Mind Blowing Movies series here. -- Mark
Like Tears in the Rain, by Gareth Branwyn
[Video Link] In 1982, my wife and I had just moved from a rural commune in Virginia to Washington, DC. We moved to the city so that she could pursue her music career (among other reasons). We were still country mice, easily awoken in the morning by street traffic, bothered by the air quality, and longing for the open skies of the country -- where, at night, you could see the stardust of the Milky Way clear as day.
Every year my wife would go to Nantucket to perform at a restaurant called The Brotherhood of Thieves -- a place that wouldn't look at all out of place in Treasure Island. It was dark, brick-walled, candle and lantern-lit, with big oak-slab tables and wooden ass-numbing chairs. In 1982, she was performing a duo act with well-known New England folkie Linda Worster, with whom she frequently played on the island.
Seeing them perform every night was a joy, but some nights I'd want to drift onto the streets of Nantucket, get swept up into the tide of pink and Nantucket-red golf clothes and flouncy summer dresses, and see where the night might wash me up.
On this night, a somewhat cold and cloudy one, I ended up under the marquee of Nantucket's Dreamland Theater, a giant, creaking, wooden ship of a building that smelled of mold, popcorn grease, and sunscreen.
Blade Runner, it read. I knew nothing about the film, but it was sci-fi and had Harrison Ford in it, so I figured it'd at least be the perfect way to kill a couple of hours before the ladies' last set. Little did I know that I was stepping into a portal and would emerge a different person, on a different life trajectory than the person who was stumbling down the shabby carpet in the dark, looking for a seat.
Read the rest