What's it like Raising Dion, a 7-year-old son with superpowers? Watch the trailer, then read the first issue free.

Read the rest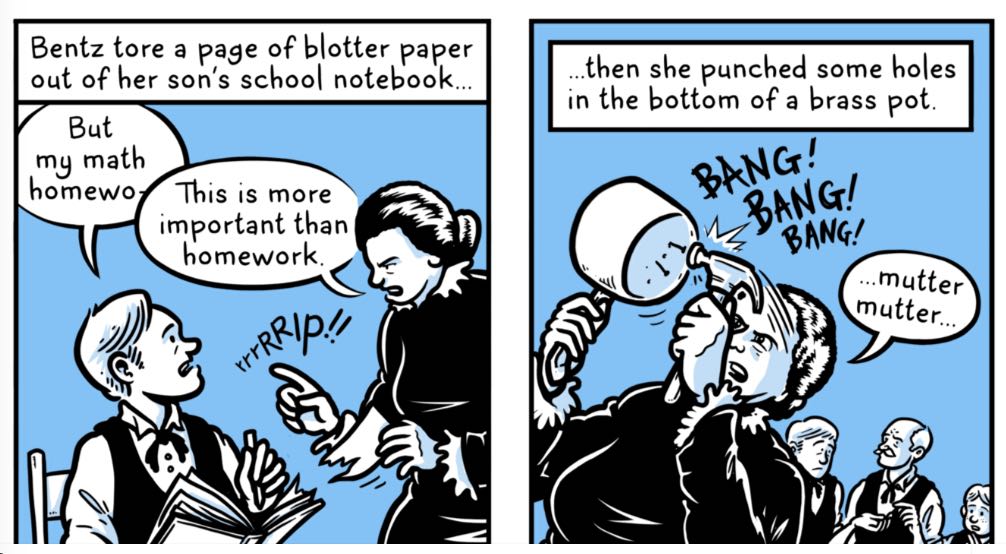 Over at Backchannel, comic artist Andy Warner's illustrated the story of Melitta Bentz, a German housewife who in 1908 invented the coffee filter.

Read the rest
Over at Backchannel, Andy Warner's comic about how in 1941 a Swiss electrical engineer returned from a hike with his dog in the Alps and came up with velcro.

Read the rest
I gobble down each issue of Groo: Friends and Foes faster than our bumbling hero slurps down cheese dip. In issue 4 (out now from Dark Horse), Groo and Rufferto stumble into his old "friend," Arcadio the Hero, who is working on training dragons to help him look more heroic. Once Groo gets involved, the village doesn't stand a chance.
Mark Evanier's writing is seamless and always leaves me giggling. Sergio Aragones' art blows me away. Read it again and again. Every time, you'll see something you missed. Be sure to check the back cover, an entire page devoted to the most devoted dog there is. Rufferto, of course, is the only real hero.
A preview of Groo #4 is posted at CBR.
Apologies to all who think Twitter is srs bzns. Jokestress out!
Read the rest
Hello Kitty is apparently not a cat according to Sanrio. In other news, Snoopy is confirmed to be a dog.
Read the rest
ADVERTISEMENT
Tyler Capps is a chef from the Internet. His 2AM Chili recipe blew up on Reddit back in 2011. Then his comical recipe comic for The Bananarama did too. So Tyler launched Cooking Comically where he posts illustrated HOWTOs for Hobo Pies, Trustfall Chicken, Happy Little Hash Browns, and dozens of other noms. Tyler has just published an excellent new cookbook too, titled, what else, "Cooking Comically: Recipes So Easy You'll Actually Make Them." When we asked Tyler to create a recipe for Boing Boing, our only request was that he base it on one key ingredient, caffeine. That was enough stimulation for Tyler to come up with a magical formula for… Wake Up Cake! Here's the recipe:

Read the rest
Bruce Logan, a director/cinematographer who worked on Tron, Star Wars, Batman Forever, and many other projects, and Richard Soto, an actor/teacher/storyteller, developed a new comic book about a Latino comic book artist who draws to entertain the kids in the barrio. The star of the comic-within-the-comic is an Aztec superhero, El Lobo, who protects the barrio from the neighborhood gangs. Guess what happens next… El Lobo comes to life! Right now, Logan, Soto, and artist Albert Morales (Fantastic Four, The New Avengers, etc.) are trying to fund the completion and publication of the comic with an Indiegogo campaign. Their hope is that the comic will set the stage for an eventual feature film.
The Legend of El Lobo
(Thanks, Bob Pescovitz!)
Ware writes:
On December 14th, I helped chaperone my daughter's second-grade-class field trip to a local production of "The Nutcracker," where I spent most of my time not watching the ballet but marvelling at the calm efforts of the teacher to keep the yelling, excited class quieted down. Teaching was not, I concluded at one point, a profession in which I could survive for even one day. Our buses came back to the school at midafternoon, and I and the other volunteer parents left our children for another hour of wind-down time (for us, not them) before returning for the regular 3-P.M. pickup. I came home, however, not to any wind-down but to the unfolding coverage of the Newtown shooting.
"
Cover Story: 'Threshold'
"
Thanks to Kristina Killgrove for the link.
Scenes from a Multiverse
, the delightfully weird webcomic from John Rosenberg (creator of the transcendently bizarre
Goats
, is
now available in book form
.
Read the rest