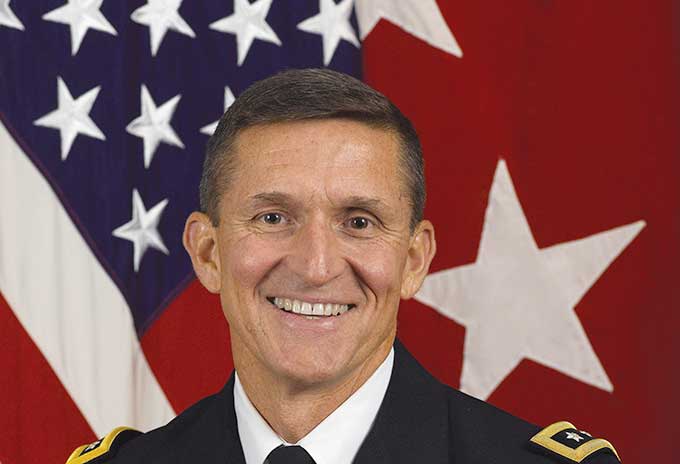 Michael T. Flynn, in happier times.
Donald Trump's thoroughly corrupt Justice Department today dropped its criminal case against Michael T. Flynn, President Trump's first national security adviser, who pleaded guilty previously to lying to F.B.I. agents about his conversations with a Russian diplomat.
The Justice Department said it had concluded that Flynn's interview by the FBI was "untethered to, and unjustified by, the FBI's counterintelligence investigation into Mr. Flynn."
Here was Flynn's reaction, a tweet after a long silence on the case.
Trump said he was 'very happy' after the Justice Department, led by Attorney General and noted scumbag Bill Barr, suddenly announced intent to drop criminal charges against Flynn on Thursday.
Rep. Adam Schiff (D-CA) said the move incriminates Bill Barr, "in the worst politicization of the Justice Department in its history."
And never forget, from 2017:
From the New York Times:
The extraordinary move comes amid a sustained attack by Mr. Flynn's lawyers on prosecutors and the F.B.I., accusing them of egregious conduct. In recent days, Mr. Flynn's lawyers said the Justice Department had uncovered new documents that pointed to misconduct, particularly in investigators' interview of Mr. Flynn in January 2017 as part of its inquiry into whether Trump advisers conspired with Russia's election interference.

Law enforcement officials cited that interview in moving to drop the charges, saying in a court filing that the some of newfound documents showed that the questioning "was untethered to, and unjustified by, the F.B.I.'s counterintelligence investigation into Mr. Flynn." Prosecutors said that the case did not meet the legal standard that Mr. Flynn's lies be "materially" relevant to the matter under investigation.

"The government is not persuaded that the Jan. 24, 2017, interview was conducted with a legitimate investigative basis and therefore does not believe Mr. Flynn's statements were material even if untrue," the United States attorney in Washington, Timothy L. Shea, said in a motion to dismiss the charges.
Justice Dept. Drops Case Against Michael Flynn