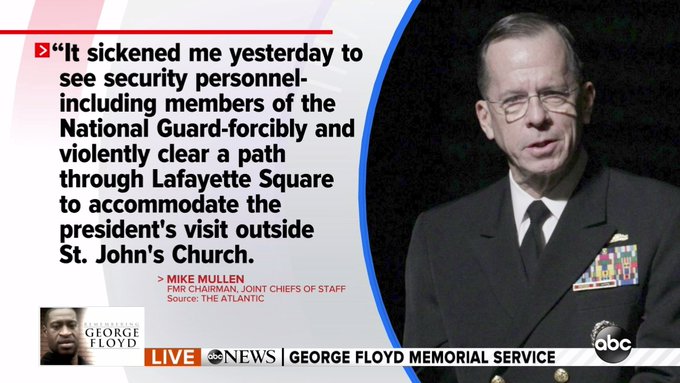 Former Chairman of Joint Chiefs of Staff Mike Mullen said today in an interview with ABC News anchor Martha Raddatz, "We are at an inflection point, and the events of the past few weeks have made it impossible to remain silent."
Mullen: "It sickened me" to see "security personnel—including members of the National Guard—forcibly and violently clear a path through Lafayette Square to accommodate the president's visit outside St. John's Church."
Watch the interview clip here.
JUST IN: Former Chairman of Joint Chiefs of Staff Mike Mullen to @MarthaRaddatz: "We are at an inflection point, and the events of the past few weeks have made it impossible to remain silent." https://t.co/sG73egNmRc pic.twitter.com/bIFBxVknbK

— ABC News (@ABC) June 4, 2020
JUST IN: Mike Mullen to @MarthaRaddatz: "It sickened me" to see "security personnel—including members of the National Guard—forcibly and violently clear a path through Lafayette Square to accommodate the president's visit outside St. John's Church." https://t.co/sG73egNmRc pic.twitter.com/i2MaQkK3sE

— ABC News (@ABC) June 4, 2020