Kindle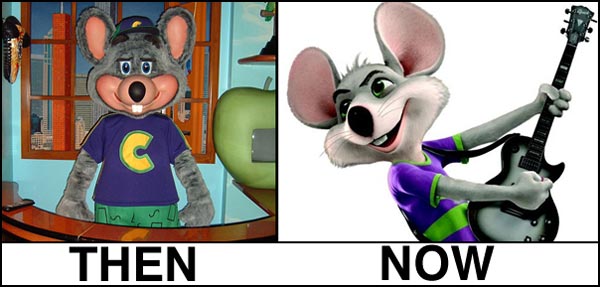 Like his eighties brethren Alvin and The Chipmunks, Chuck E. Cheese has been redesigned in a manner that removes all remaining crumbs of original loveable kitsch. What was once a heart-warming pastiche of "scary clown" meets "stoned furry" is now just another soul-less CGI belch. Is nothing sacred?
Bonus in this AP article: a bungled reference to Nolan Bushnell as the man who "co-founded Atari and Pong." Pong, of course, was an arcade game created by Allan Alcorn and manufactured by Atari, the video game and home computer company Bushnell co-founded.
Boing Boing editor/partner and tech culture journalist Xeni Jardin hosts and produces Boing Boing's in-flight TV channel on Virgin America airlines (#10 on the dial), and writes about living with breast cancer. Diagnosed in 2011. @xeni on Twitter. email: xeni@boingboing.net.
More at Boing Boing