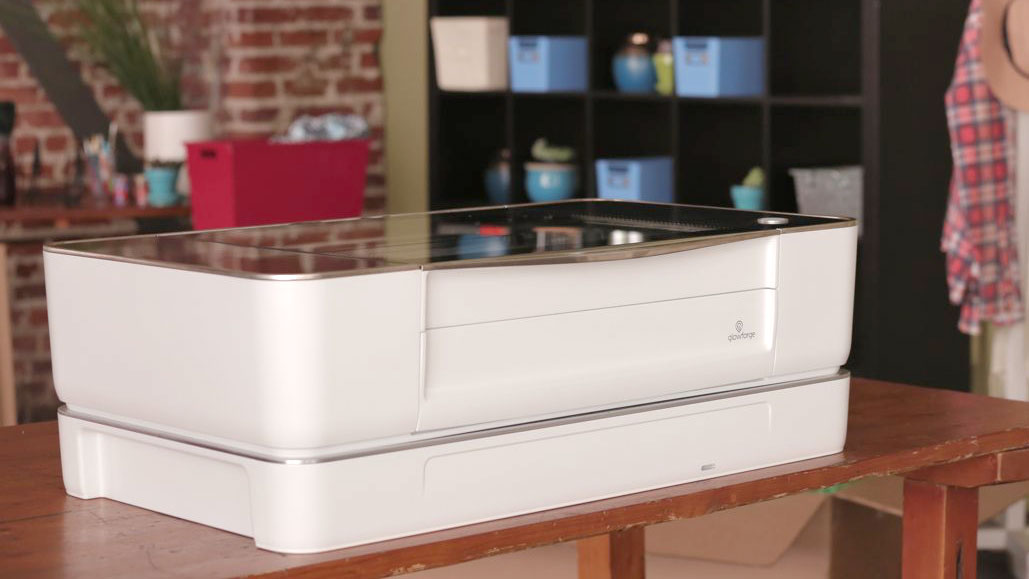 Laser cutters are machines that cut and engrave flat material – such as plywood, acrylic, chocolate, leather, cardboard, seashells, glass, even sheets of dried seaweed. Today, Glowforge introduced a low-price laser cutter that blows away the competition at a much lower price.
Glowforge is a game changer in many ways, and I haven't been this excited by a technology in a long time. The things you can make with one (see images below) are orders of magnitude better looking than things you can make with a 3D printer of the same price, and the Glowforge is much easier to learn how to use than a 3D printer.
Dan Shapiro, the founder of Glowforge (he's the creator of the Robot Turtles game), gave me a Skype video demo of the machine in action earlier this week. He showed me how to make a votive candle holder out of two different materials. He placed one sheet of thin walnut and another sheet of frosted acrylic on the Glowforge's cutting bed (which has a 12-inch x 20-inch working area). He opened his iPad, which had a live image of the cutting bed displayed on it (the Glowforge has a camera and is conected to Wi-Fi). Dan then dragged the cutting patterns for the pieces of the candle holder onto the video image of the walnut and acrylic pieces. This neat software solution for aligning material was developed by Dean Putney, who was a contractor for many years at Boing Boing, and now works for Dan in Seattle. Read the rest
It's more complicated than it seems: the functional elements of a 3D print can't be copyrighted, but they may be blended with decorative elements that can be; what's more, if we err on the side of caution by "open licensing" stuff that isn't even copyrighted, the effort to open up copyright ends up normalizing the application of copyright to new subjects. Read the rest
Imagine a game where Gary Gygax had been possessed by Abdul Alhazred, the fabled author of the Necronomicon. This makes more sense than to believe Cave Evil was crafted by a bunch of game geeks in their basement.
She's approximately 12,000 years old now, but when she died in the Yucatan Peninsula she was only a teen. Read the rest
A splendid time with the actor-writer-blogger-geek-champion turned host of TableTop
Vanderbilt University biologists studied how electric eels can zap their prey with 600 volts from even a few meters away. Turns out, the fish are like living TASERs. Professor Kenneth Catania and his colleagues published their work in the journal Science.
To conduct the new study, Kenneth Catania, a biologist at Vanderbilt University in Nashville, recorded electric eel (Electrophorus electricus) attacks on smaller fish, such as koi, in a large tank with a high-speed video camera, capturing 1000 frames per second. At the same time, he recorded the pulses emitted by the eel and the muscle contractions of the fish. When an eel senses the movements of a nearby fish, he showed, the eel releases a high-voltage volley of electric pulses that not only shock the fish as it's trying to swim by, but also cause a massive, involuntary contraction of the animal's muscles, freezing it in place. If Catania injected the fish with a drug that blocks communication between nerves and muscles, however, its muscles weren't frozen. That experiment showed that the eel's shock immobilizes its prey's muscles by stimulating the fish's motor neurons. It's the first time a fish's electricity has been shown to have such a specific biological effect in prey. "The eel is a swimming Taser," Catania says. "The mechanism is the same."
"
Electric eels zap other fish via 'remote control'
"
Read the rest
Game designer Stefan Feld has designed eight published games that focus on dice. Each takes its own approach to using the 5,000-year-old randomizers without creating a random winner. By Matt M. Casey
Welcome to
this year's Boing Boing Gift Guide
, a piling-high of our most loved stuff from 2013 and beyond. There are books, gadgets, toys, music and much else besides: click the categories at the top to filter what you're most interested in—and offer your own suggestions and links!
One year ago today Introducing Elfquest at Boing Boing! It's my great pleasure to welcome Wendy and Richard Pini to Boing Boing, where they'll be publishing the next chapter of their long-running fantasy epic Elfquest—online-first for the first time!
Five years ago today Update on CIA drug plane owned by "Donna Blue Aircraft, Inc": Here's an update on the strange story of the Gulfstream II jet filled with 3.7 tons of cocaine that crashed in the Yucatan last year. The Mexico City newspaper El Universal reports that European Parliament was investigating the circumstances surrounding the plane, which had previously been used by the CIA for "extraordinary rendition" flights.
Ten years ago today $SPAM from $SOMEONE: From: "$FIRSTNAME $LASTNAME" Date: Fri Sep 5, 2003 1:26:23 PM US/Pacific To: doctorow@craphound.com Subject: $RANDOMIZE Read the rest
Leafcutter ants are fascinating tropical creatures that farm fungus gardens, require access to certain resources in order to survive and grow, and are constantly splitting off from the pack to form new colonies with connections to the old. Which, of course, makes them
the perfect species to adapt into a version of Settlers of Catan
, as entomologist M.L. Henneman has done.
Read the rest
Laura sez, "My sister, who works for how about we & is an avid gaming fan, got an amazing proposal from her now-fiance. Pete, with the help of a crafty friend, created a new development card and sat playing for 2 hours until he could purchase the 'proposal' development card and play it! (fyi, they were playing the 2 person version so there was no chance that someone other than the future bride or groom could accidentally play that card!)"
"He said, 'I hate playing two-player Catan because I feel like I'm being really aggressive and attacking you.' So I assumed he had a monopoly card and was going to steal my brick (a crucial game-winning resource) from me. So of course I called him an asshole and literally said 'I can't believe you're about to do this.' And then he laid down the proposal card – which I really didn't believe he was going to do. I then dove across the board to kiss him, he managed to get the ring out, and eventually I remembered to say yes (many kisses and tears later)."
How to Propose to a 'Settlers of Catan' Fan [Chiara Atik/The Date Report] Read the rest
In the latest episode of Bullseye with Jesse Thorn I talked about two cards games I've been enjoying with my family lately:
The Struggle for Catan, a spin-off of the colony-building board game Settlers of Catan. He also plugs Anomia, a crazy-fast word game that "makes your brain confuse being first with being the loudest."