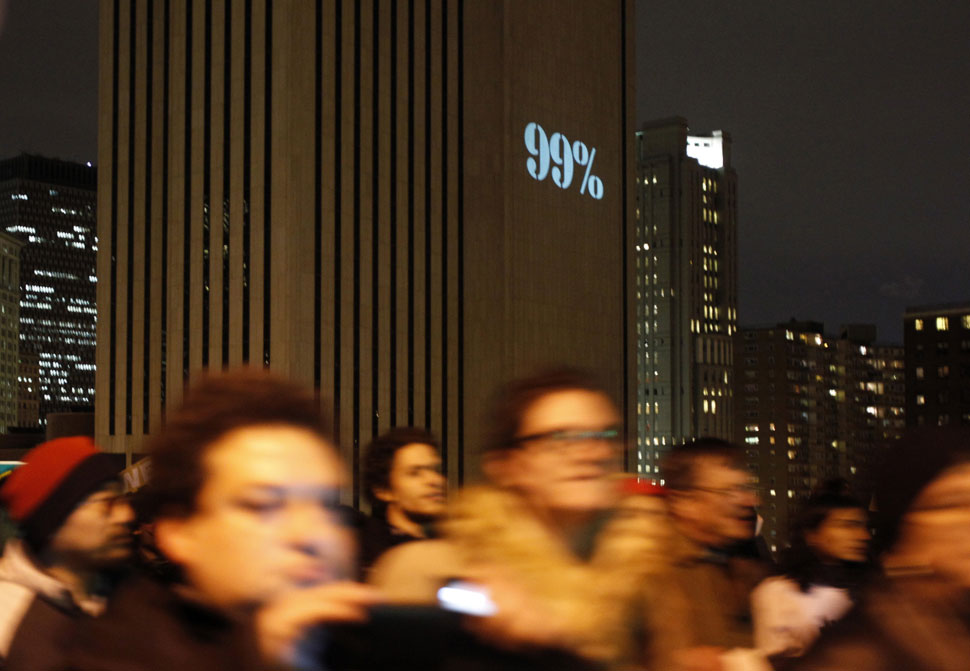 REUTERS/Jessica Rinaldi
Earlier this evening, tens of thousands of Occupy Wall Street protesters marched throughout New York City, many making their way on to the Brooklyn Bridge, carrying LED candles and chanting. As Occupiers took the bridge in a seemingly endless sea of people, words in light appeared projected on the iconic Verizon Building nearby:
"99% / MIC CHECK! / LOOK AROUND / YOU ARE A PART / OF A GLOBAL UPRISING / WE ARE A CRY / FROM THE HEART / OF THE WORLD / WE ARE UNSTOPPABLE / ANOTHER WORLD IS POSSIBLE / HAPPY BIRTHDAY / #OCCUPY MOVEMENT / OCCUPY WALL STREET / list of cities, states and countries / OCCUPY EARTH / WE ARE WINNING / IT IS THE BEGINNING OF THE BEGINNING / DO NOT BE AFRAID / LOVE."
A few hours later I spoke with Mark Read, who organized the "bat-signal" project. He tells Boing Boing why and how he did this, and what technology he used.
XJ: How did this come together?
Mark Read: It came up at an action coordination meeting. We were talking about what to do on the 17th. We had a sense that the morning on Wall Street would be forceful and confrontational, and we wanted to not do the same kind of thing in the afternoon. Initial talks focused on having a thousand people taking the bridge in the afternoon, and continuing in a militant mode of activism. But we started thinking about creating a more unifying moment. A celebration of the birthday of Occupy Wall Street. Maybe taking the roadway and having lots of arrests might not be best thing. What if we took the pedestrian walkway, and gave out LED candles? We would give out 10,000 LED tea candles, a river of light streaming over the walkway.
And a guy named Hero, who has been central to a lot of facets of the occupation since the beginning, turns to me and says, "We need a bat signal. The 99%."
I said, I think I can do that. I know just enough about how the technology works that I think I can pull that off. And for the past two weeks, I've worked full time on figuring that out.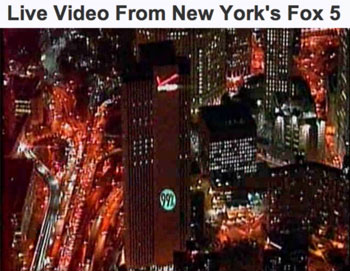 My friend Will Etundi, who I know from these renegade street parties, the alter-globalization movement, carnivals against capital—he's part of a community of friends who deploy spectacle and art in the service of radical politics. Will and I have done other events that were about getting people into public space. Transforming the normal way we use space, turning it into a party, a roving community, something festive and mobile. Through that work, I'd already met people with a variety of skill sets, strange and magical abilities. I got in touch with them right away, and started pulling together a team. Who would have a 12K lumen projector, a big expensive piece of equipment, the most powerful projector you can get?
I knew I wanted to throw it on the Verizon Building. Everyone who lives in New York has looked at that big monolithic structure. For some of us, every time we look at it we think of how cool it would be as a projection surface.
I knew we'd need a powerful projector. But if you had something that expensive on loan for free, you couldn't just sneak it up on some roof and be in jeopardy.
I knew I had to find someone who lived in a building nearby.