You can own a D20 die carved from a 10,000-year-old wooly mammoth tusk for just $249.

Read the rest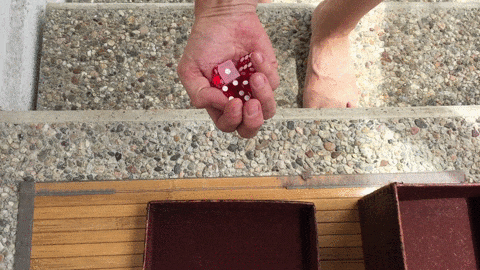 My search for an easy way to generate strong passwords and passphrases led me to the "Diceware" method Cory wrote about on Boing Boing. This was no game. I needed serious dice.
Read the rest
Zombies aren't known for their critical thinking skills, but in Zombie Dice, a fast-paced, risk-vs-reward dice-rolling game designed by Steve Jackson, you play a zombie who must balance its desire for human brains with its fear of getting blasted to necrotic bits by a shotgun.
The game comes with 13 specially marked dice. The dice have three kinds of markings: brains, shotgun blasts, and footprints. (Green dice have more brains, red dice have more shotgun blasts, yellow dice are in-between).
The rules are simple: two or more people can play. Everyone is a zombie. The dice represent humans. When it's your turn, pull three dice from the cardboard cup (without looking) and roll them. Set any brains to one side. Set any shotgun blasts to the other side. Footprints mean the human got away - keep those in front of you. Do you want to roll again? No problem. Just re-roll the footprints dice along with enough fresh dice from the cup so that you roll three dice. You can roll as many times as you like in an effort to eats lots of brains in your turn (my record is 11 juicy brains in one turn), but if you end up accumulating three shotgun blasts, you lose all your brain points for that turn and the next player-zombie gets its turn. When one player gets 13 points, play continues until the round is finished and whoever has the most points wins.
A couple of weeks ago my friend Kent Barnes recommended a simple, fast-moving dice game called Tenzi. I bought it and my wife, 11-year-old daughter, and I had fun playing it. The rules are simple - everyone starts out with 10 dice and the goal is to roll your dice as fast as you can until all of them show the same number. Every time you roll, you are allowed to set aside any dice that match your desired number. When all ten of the dice show the same number, you shout "Tenzi!," throw your hands in the air, and gloat while the other players gnash their teeth. The game rules included a couple of variations on the basic rule set, which we also played and liked.
A few days later Kent told me about a $10 deck of cards called 77 Ways to Play Tenzi. I ordered the deck and last night my wife, 11-year-old, 16-year-old daughter (who doesn't like games and joined us reluctantly), and I tested the deck out. Ninety minutes later we decided that this deck takes Tenzi to a new level. The deck adds variety, surprise, and humor to Tenzi. It makes Tenzi so much more fun that I think the company shouldn't sell the dice without the cards. My 16-year-old daughter was surprised that she had such a good time.
77 Ways to Play Tenzi | Buy Tenzi cards and dice as a set See example cards
Though I've never played a pen-and-paper RPG in my life, I'm completely in love with the dice. At Comic-Con, a company called Chessex had more on offer, in more shapes, sizes and geometries, than I'd ever seen in my life. Irresistable!