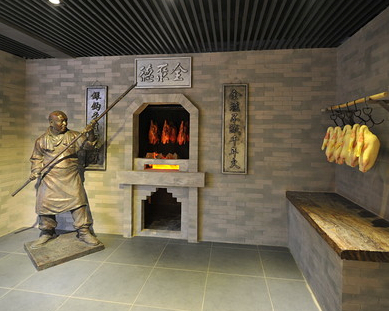 A new museum opened in Beijing, China dedicated to the history and culture surrounding the traditional dish of roast duck.

Read the rest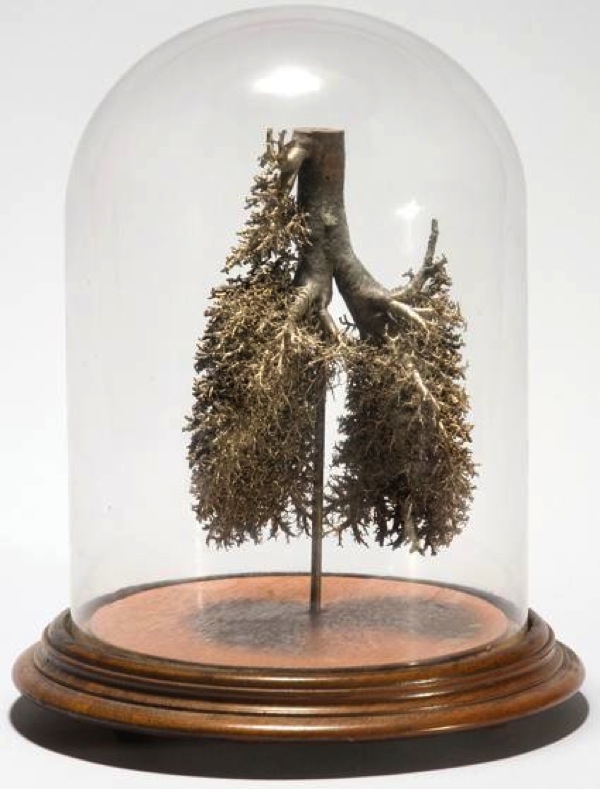 This beautiful object is a corrosion cast of bronchi and trachea, c. 1880-1890, most likely from a rabbit, sheep, or dog. It's part of the new Body of Knowledge exhibition at the Harvard Museums of Science & Culture.
Corrosion casts have been part of anatomical teaching from the 17th century to the present, particularly for creating display specimens. A rapidly hardening substance, often metal or plastic, is injected into blood spaces or other cavities. Then the tissue is dissolved away by strong acids or bases. This cast was created using a mixture of bismuth, lead, tin, and cadmium. After injection, the tissue was dissolved in potassium hydroxide.
Body of Knowledge: A History of Anatomy (in 3 Parts)
Bjarke Ingels Group (BIG) is designing The LEGO House, an "experience and education centre" in LEGO's home of Billund, Denmark. According to LEGO Group owner Kjeld Kirk Kristiansen, The LEGO House, slated to open in 2016, "will show the past, present and future of the Lego idea…. and the Lego House gives us an opportunity to make it very tangible what Lego play offers and how it stimulates children's creativity and learning." Sadly, the architects have not yet built a model of the structure from LEGO. Instead, they released the animation above. "BIG Plans for a Lego Museum in Denmark" (Smithsonian)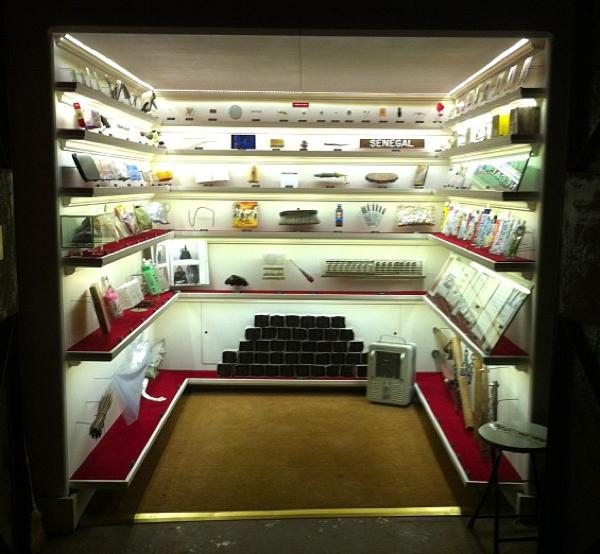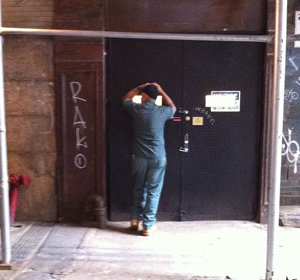 Hidden inside a nondescript freight elevator in a NYC TriBeCa alley lies Museum, a delightful cabinet-of-curiosities drawing from weird collections around the globe. Museum is now open for its second season and includes such items as: "Personal Ephemera from Al Goldstein, The Rocks and Tools from Tom Sach's Mars expedition, Objects Made For Prisoners or by Prisoners in US Prisons, Fake Vomit from Around the World, Tip Jars collected by Jim Walrod, Surf and Turf Potato Chips, and more."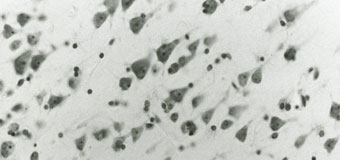 Last week, I toured Philadelphia's Mütter Museum — the Philadelphia College of Surgeons' astounding collection of pathological oddities — and was treated to a sneak peak at the museum's latest acquisition: 46 microscope slides from Albert Einstein's brain.
Read the rest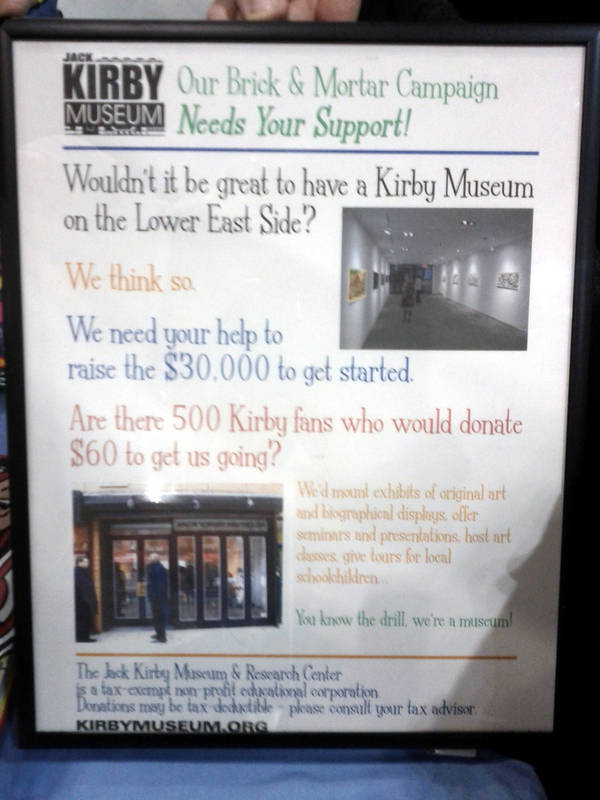 Seen at New York Comic-Con, which I'm presently attending: this plea for 500 Jack Kirby fans to kick in $60 each to get a pop-up Jack Kirby museum in a Lower East Side storefront, to be curated by the folks who do the most excellent online Kirby Museum and Research Center
Nicole sez, "The American Folk Art Museum, one of the best museums in NYC,
is on the verge of deaccessioning its amazing collection and shutting it doors forever
. If you haven't been, the folk art museum introduced Henry Darger (he is the celebrated 'outsider artist' who wrote/illustrated: The Story of the Vivian Girls, in What is known as the Realms of the Unreal, of the Glandeco-Angelinian War Storm, Caused by the Child Slave Rebellion) to thousands of viewers who would never have known about him otherwise. Please get the word out about the downfall of this amazing institution, it would be a massive loss to NYC, and the rest of the world if it closes its doors forever."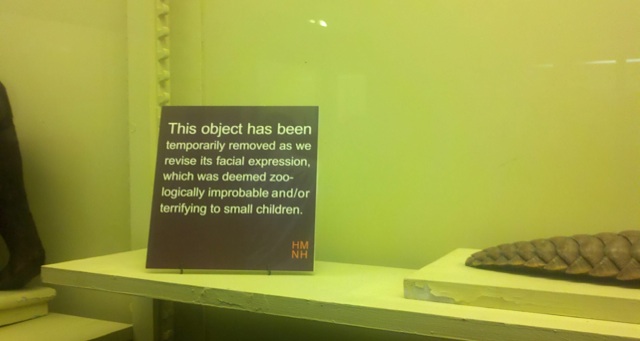 YanquiUXO, the Reddit user who originally posted this sign says that it comes from the Harvard Museum of Natural History, which hosts an annual event that allows artists to set up installations and performance art inside the museum. This is one of those pieces.
I can't find the name of the artist of this particular piece, though, so if you know, holler.
Many of the Redditors have wondered whether this piece took real-life inspiration from a lion that was famously (poorly) taxidermied for the King of Sweden in 1731. I have no idea, but the lion itself must be seen to be believed. The derp is strong with this one.
Image via Ed Yong