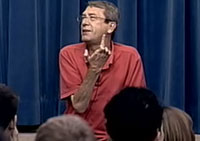 Earlier this week,
I posted links
to videos of a University of Florida professor delivering a very loopy lecture to business school students -- apparently, while really really really high. We're told he was subsequently fired. I don't know the story behind the videos (perhaps he was using marijuana or some other medication to treat a serious illness), but they do make for very interesting viewing. UF pulled them from their webserver, but a number of BB readers who've become fans of the Apparently Baked Professor's delivery style have pointed us to new locations.
Many links follow, but this first one is all you need. Trust me. GS says,
Like any good BoingBoinger, I snatched the WMVs early yesterday before UofF took them down so I could put together a little highlight reel: Link.
Tom says,
Here is a torrent of the baked professor video.
Shawn says:
I saw your call for mirrors so here's what I could do for the effort. I don't have tons of bandwidth but hopefully some others can grab them and mirror from this link. These are the original WMV files in all their 640 x 320 x Baked glory. Your readers will want to do a "Save As" rather than stream them (probably). Enjoy!
Brendon
says,
The video appears to be available at google video: Link.
And on a sad note, Joakim says:
I was checking the videos from the week before the famed lecture and, in one he's talking about how he would be screwed if the university decided to lay him off. Around 23:44 in the video. Kinda ironic.
Many more mirrors for video files after the jump.
Read the rest